The growing small house movement is one solution to the affordability challenge faced by middle- and lower-income seniors, but lately some industry leaders have expressed concern that this movement will only exacerbate another trend--isolation and accompanying depression.
Dr. Bill Thomas believes it doesn't have to be that way--elders can have small homes and maintain independence without sacrificing community and a social life. He's working to reverse the isolation trend through modular homes designed for use in cluster communities, small villages and on space adjacent to existing developments.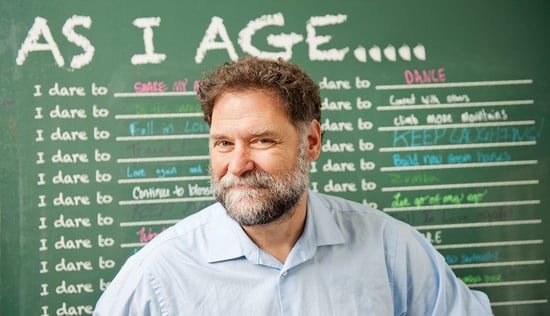 Dr. Bill Thomas
Minka, Thomas' affordable modular housing model, allows elders to both remain independent in small, easily manageable homes (the current model is 640 sq. Ft. and sells for $94,000), and avoid isolation through proximity to other seniors (and often younger neighbors), as well as shared community spaces. Thomas unveiled Minka at the 2017 Senior Living Innovation Summit in Boca Raton, FL.
"Our goal is to use our building system to make sure people have the living space that suits them best. We're able to leverage economies of scale that come from larger, clustered developments," said Thomas. "Minka can be a private residence located in a backyard near to a larger residence, clustered in pocket neighborhoods or we can do entire villages (two of which are featured in this article)."
Minka's newest model was designed by Thomas and Denmark-based Ax Jensen & Goehring Architects, as part of a collaboration with the University of Southern Indiana (Evansville) and built near its campus. Currently, parts are made in an Upstate New York production facility. The original Minka model was designed for Thomas' daughter Haleigh Jane Thomas, who lives with a profound developmental disability called Otahara Syndrome.
Thomas also is the founder of a global non-profit (The Eden Alternative) which works to improve the care provided to older people, and creator of The Green House Project. He's currently building a Minka-based community in Loveland, CO.
Believing in MAGIC
Thomas and his team are working to launch Minka-based developments that not only fight isolation among peers, but cultivate interaction among generations. They're called Minka MAGIC projects, with the acronym standing for Multi-Ability Multi-Generation Inclusive Community, which, ideally, includes a blend of student and elder housing.
'As a geriatrician, I have known older people who don't like younger people, but they're the minority," he said, explaining the mindset behind MAGIC. "Why is our industry based on segregation? Why do we segregate not only by age, but by physical and cognitive ability? This just aggravates society's chronic ageism."
Emphasis on Constant Improvement
Minka's approach has more in common with electronics, the automotive industry and even LEGO® toys than it does with the 'typical' senior living template, Thomas said. The LEGO analogy stems from the fact that Minkas (and the movable parts within them) can be combined in thousands of ways.
"Basically we're inventing the future," said Thomas, describing the new project in Loveland. "The first Minka was 320 square feet, used a different structural system and was built on a slab. Since then we've developed three different types of foundations we can use. We've doubled the size of our base model and kept our price the same."
He compares the Minka design and construction process to the glory days of Detroit. They're able to update the model every year. "Basically we have model years, like cars. Because we're using CNC (computer numerical control) fabrication, we're able to constantly update the design. We see ourselves as in a process of continual innovation with our model. The further we go, the better house we can make for the same price."
He also compares Minka's approach to the constantly evolving electronics industry, rather than the usual slow-moving senior housing approach.
"The reason your new big-screen TV is always bigger and cheaper than before is the advanced manufacturing process the electronics industry takes, rather than saying. 'This is a great TV and it's the one we're going to sell for the next 10 years.'"
Designed for Independence & Flexibility
Thomas stresses that over $1 million was spent to develop the Minka model and make them accessible to seniors, beginning with their size and low price point.
"When you talk to the customer, what they want – and this is part of the American culture and ethos – is a place of their own. And that's the first and most important thing about Minka. We create complete dwellings and then customize them closely. So you get your own place and a community around you."
He added, "In a lot of ways when we're creating an independent housing option, less can be more. So even though the footprint of our 2019 model is 640 square feet, that's not big, but it's not tiny."
"Just about everybody has lived in a small space that was badly designed, spaces where you couldn't close the bathroom door and brush your teeth," he said, emphasizing that Minka's design optimizes every inch of space.
"One way to make housing more affordable is to make it smaller, but make it live larger. We want to build the Goldilocks amount of space, but not too much to maintain and heat," he said.
Two other design features: Minkas meet ADA guidelines and offer a large level of flexibility because walls are easily movable.
"One feature unique to Minka—the interior space is completely customizable. You'll be able to have your Minka and decide you want a different floor plan. You can just unbolt the partitions," Thomas said. "If you want a bedroom that's two feet larger, you can do that in an hour—just loosen the bolts and move the wall, instead of having to smash through the wall, build a new one and cart the old materials away."
Sustaining Independence
Small in size and emphasizing efficiency, Minkas are designed so that even elders without partners in their late 80s and even 90s can remain independent as long as possible, Thomas said. "It takes a certain amount of energy and cognitive resources to live by yourself. That's even truer if you're 87."
Though he believes it's overrated, tech is a great help to seniors living alone, Thomas said, especially any new devices and apps that help automate essential basics like food delivery and bill paying.
Dr. Thomas explains why this is extremely important. "As a geriatrician, the number of people I admitted to nursing homes because they couldn't manage household logistics was really high."
A Growing Movement
So far, Minka has completed two projects with another in Colorado in the works.
"And we have a couple of more on the books," he added. "What we've found is that there's a demand for this kind of housing and we also know it is going to take some time and effort to educate providers about the options. We have to train them to think about housing as a product rather than a project."
At this stage, the perfect match for Minka is often a situation where land prices are high and landowners want to add 4-5 units that otherwise couldn't fit on the property, Thomas explained.
Often they'll be added adjacent to multi-unit buildings. Right now, he's working with the Loveland (CO) Housing Authority to add Minka units to a senior living property that otherwise wouldn't have the land available to build additional housing.
"These affordable housing units are going on the property of the Loveland Housing Authority," he said. "They came to us and had done the math, realizing that we can do it fast and at an affordable price point."
Serving a Diverse Community in Need
Other Minka-based communities in the development stage include the ambitious Kalimos Project in Victoria, Texas and Clearfield, PA's City of Hope, which will provide affordable housing to seniors and other communities as well.
Rendering courtesy of Village of Hope
The Village of Hope project will be built on property currently occupied by an abandoned school. "Our subsidiary, Mature Resources Inc., purchased a vacant school in Lecontes Mills, Girard Township from the Clearfield Area School District in October 2018. The school was built in 2003 and vacated in 2010 and we had been looking at this property for well over a year. When the timing was right, we purchased," said Kathleen (Kathy) Gillespie, CEO of Clearfield (PA) County Area Agency on Aging.
The project is still in the development stage. "We have not broken ground. We just completed the final renderings and applied for grant funding to begin renovation of the building itself to convert into a community center," she added.
"The community follows Dr. Thomas' MAGIC model," Gillespie said. "We are planning for rents to be a sliding scale based on income. Our goal is to serve those in greatest need while staying true to our mission."
Her organization began working with Thomas in 2018. "I was searching for an ECHO (elder cottage housing option) and I happened on to the Minka website. I inquired about cost from there and was able to talk with Dr. Thomas a few weeks later," she said.
This Minka development will provide housing to a number of underserved communities, including (though not limited to):
Families and individuals living with Alzheimer's Disease and related dementias.
Elders who have adult children with disabilities that they are housing and supporting.
Grandparents and great grandparents raising children (mostly due to the opioid epidemic).
Fulfilling a Long-held Communal Living Dream
When Nancy Fox retired a few years ago and returned to her native Austin, TX, she agreed to take over as head of the Green Gate Fund, which is developing five senior communities across Texas. The first will be in Victoria, about 30 miles from the Gulf of Mexico.
Incorporating Thomas and Minka into Green Gate's development plans made sense since she's known and collaborated with him for over 20 years. "I worked with Bill on the first Eden Alternative, and I developed the first Green House Alternative in Colorado," Fox said.
"Green Gate is a group of social entrepreneurs, people who have reached a point in their lives where they really want to invest and do things, to use their skills to make a difference in the world," she explained. "Our group chose eldercare as their area of focus, mostly because they see the 'brokenness' of the system."
Speaking from research and personal experience, Fox believes elders have two core needs: privacy and community. "For years, Bill has been thinking about how to best use architecture and design to extend people's independence to achieve an optimized culture," she said.
A Model Minka Community?
Thomas is adamant that a Minka could be built "somewhere out on an isolated road, although that would be terrible." So far, they've been used as intended, on small spaces adjacent to larger existing developments and in cluster communities and small villages like the one planned in Victoria.
"We're in the middle of our first phase of fundraising. We have a parcel of about 20 acres, which we purchased from a church. We're still developing the design," Fox said.
The development will probably include about 100 Minkas, as well as communal buildings and a section or sections Fox calls "The Canopy," which will provide additional care for residents who (temporarily or permanently) aren't able to maintain their Minkas, but want to remain connected to the community and as independent as possible.
Defying the 'Gospel of Separation'
"If at some point in your life's journey you're unable to stay in your pocket neighborhood, or for optimal end-of-life care, we're developing 'The Canopy' for those people who can't stay in their (individual) Minkas," Fox explained.
Nature will be an integral part of canopies, which will combine several Minkas, offer communal space, as well as access to nature through skylights, windows, lots of indoor plants, walls that lift up on temperate sunny days to allow breezes to flow through the space, and even openings in the roof to allow rain into specific areas.
"We believe it's cruel to ask someone to move. They will still be part of the community," she said. "We're moving away from (senior living's) gospel of separation."
A Co-living Model?
Fox believes Garden Gate communities share many characteristics with the co-living movement, intentional communities developed by and for people sharing many of the same values and interests.
Like traditional co-living communities, more popular in Northern Europe, Kallimos will feature communal cooking/dining/meeting and recreational areas. However, the Minka homes will allow residents to maintain a greater level of independence, even within the Canopy.
"We will put most of our emphasis on creating connections between people," Fox said. "Kallimos will focus on culture, not just design."
Don't Call 'Em Granny Pods
Dr. Thomas despises the term "granny pod," one he won't even say. It's more than a peeve, he insists, using appropriate terminology is significant as his industry fights to make elders a respected, integrated part of our larger society, as they are in other cultures.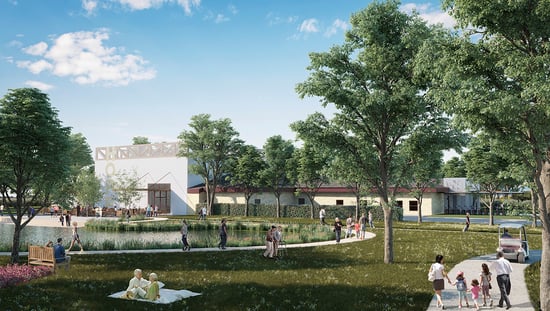 Rendering courtesy of Village of Hope
"The first step is to get people to use the correct name. It's an accessory dwelling unit (ADU). That name (granny pod) is a horribly ageist, stigmatizing and sexist term."
He stresses that ADUs have been around for thousands of years. "There's evidence that people were constructing them in Mesopotamia," he said. "in the excavations, you see dwellings with smaller dwellings right nearby. This is something that has stood the test of time."
"If you look at older parts of cities, you find ADUs and those units were developed because they were efficient," Thomas said. "After World War II, the emphasis shifted to single-family dwellings. That's the shape of the world we're living in right now. It created sprawl and a loss of community."
"What we want to do is lead an ADU renaissance in the 21st Century!"
Why Can't Elders Have it Their Way?
Thomas believes Minka-based communities will fulfill the unmet needs of many elders, especially the underserved lower income and middle-markets.
However, he's frustrated by the lack of innovation in the senior living industry targeting specific demographics. Instead, providers are ramping up their budgets to market existing products to prospects who don't really want it. "If you look at sales and marketing costs in our industry, the cost of customer acquisition continues to go up," he said.
"Customer referral services have become the most successful part of our industry because the industry has commodified itself. It's like going to the Blue Book to buy a car" he said, stressing that residents buy or rent based almost entirely on price, because of the cookie-cutter nature of communities. "Customers just don't see a difference in the product that's out there."
From a marketing and product development perspective, Minto Communities' Latitude Margaritaville is getting it right. "They're not waiting for referrals from an online source; their waiting list is over 130,000 people. That's because they're bringing something different to the marketplace," he said.
"The entire field of senior living is upside down because we build what we want and then have to work really hard to maintain occupancy," Thomas said. "What our industry has to do is submit to the authority of the customer and listen to what the customer wants from us!"
-------------
Addressing the middle-market senior housing challenge will be a featured topic at the Senior Living Innovation Forum taking place June 23-25 in Santa Barbara, CA. Request an invite here.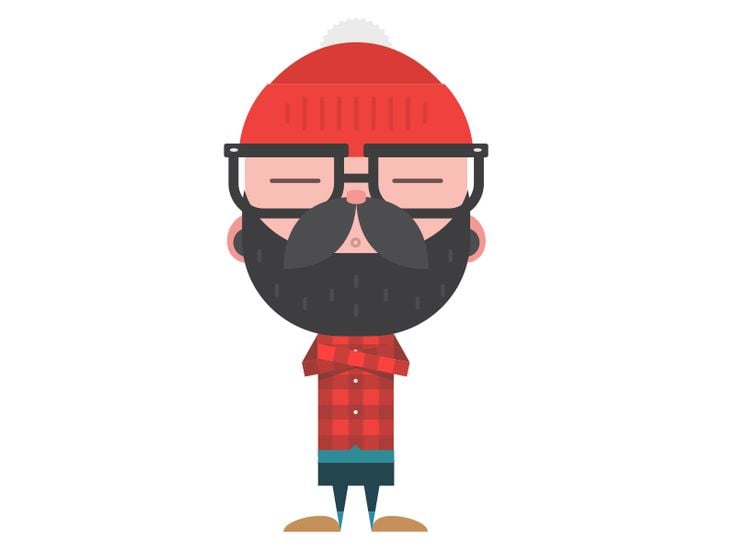 Posted by
Andy Smith is a veteran journalist and copywriter. Andy writes about hospitality, retail, senior living and higher education topics for influence group.
SLIF heads to Napa!
The One of a Kind Retreat for Senior Housing Leaders.
Oct 8-10, 2023 | Napa, CA
Learn More