The aging services industry could learn from the small northern California town where Patrick Bultema grew up.
Mostly comprised of Swedish immigrants, Richvale (pop. 250) was a place where seniors were respected and their needs met by a caring community that cooperated with one another. In turn, the elderly gave back, providing a connection to the town's heritage and values.
After decades as an executive in the world of tech venture capital, Bultema has carried those small-town values into his new role as President and CEO of The Eden Alternative, an aging services consulting firm that advocates care being done with elders, not to them. Speaking at the Senior Living Innovation Forum in Napa, California, he talked about those more heart-centered approaches to providing meaningful, uplifting care to seniors.
But he also urged those in the audience to peer through a more tech-infused lens at how to best provide care and services. The past few decades have seen an explosion of innovation, changing large swaths of society, but the aging services industry has largely been an innovation-free zone in that timespan, Bultema said, with little in the way of venture capital, few startups, and not much tech advancement within the space. But that is changing – fast.
"My heart told me that something big was happening here," he said. "A whole season of innovation and disruption is coming to this space and I wanted to be a part of it."
Betting on Innovation
Boomers are well-established customers of big tech names like Apple, Amazon, Best Buy, and Google. That familiarity, Bultema said, means those firms are in a prime position to sustain relationships with the demographic, with the innovation of new products and services being the key to maintaining brand loyalty as they age.
"These companies don't need to acquire these customers (Boomers)," Bultema said. "They already have them."
Take Amazon for example, with its massive amount of data on senior consumers, logistics acumen, and mastery of the last mile of delivery.
"Just look at the piles of Amazon packages at nursing homes," Bultema said.
Or Apple, with its plethora of products used by seniors and wealth of iOS customers in the demographic.
"I'm surprised at how unaware people in senior living circles are about what's going on (tech-wise) with seniors," Bultema said. "They think older people are not tech-inclined. Try to take away an iPhone from a Boomer. It's not going to happen."
Up-and-coming firms are also getting on the innovation train, like Honor, the largest senior care network and tech platform, which has raised $625 million in venture capital. The future is bright for those companies looking to participate in the space, with the longevity economy being a $390 billion opportunity, Bultema said.
"If you're a new disruptor, you don't want to enter an area that's heavily regulated. You want to go to the Wild West," he said.
"(We should be) empowering individuals to live life on their terms as they age and seek to lean-in and make sure that innovators and disruptors are bringing positive value to empower the elderly."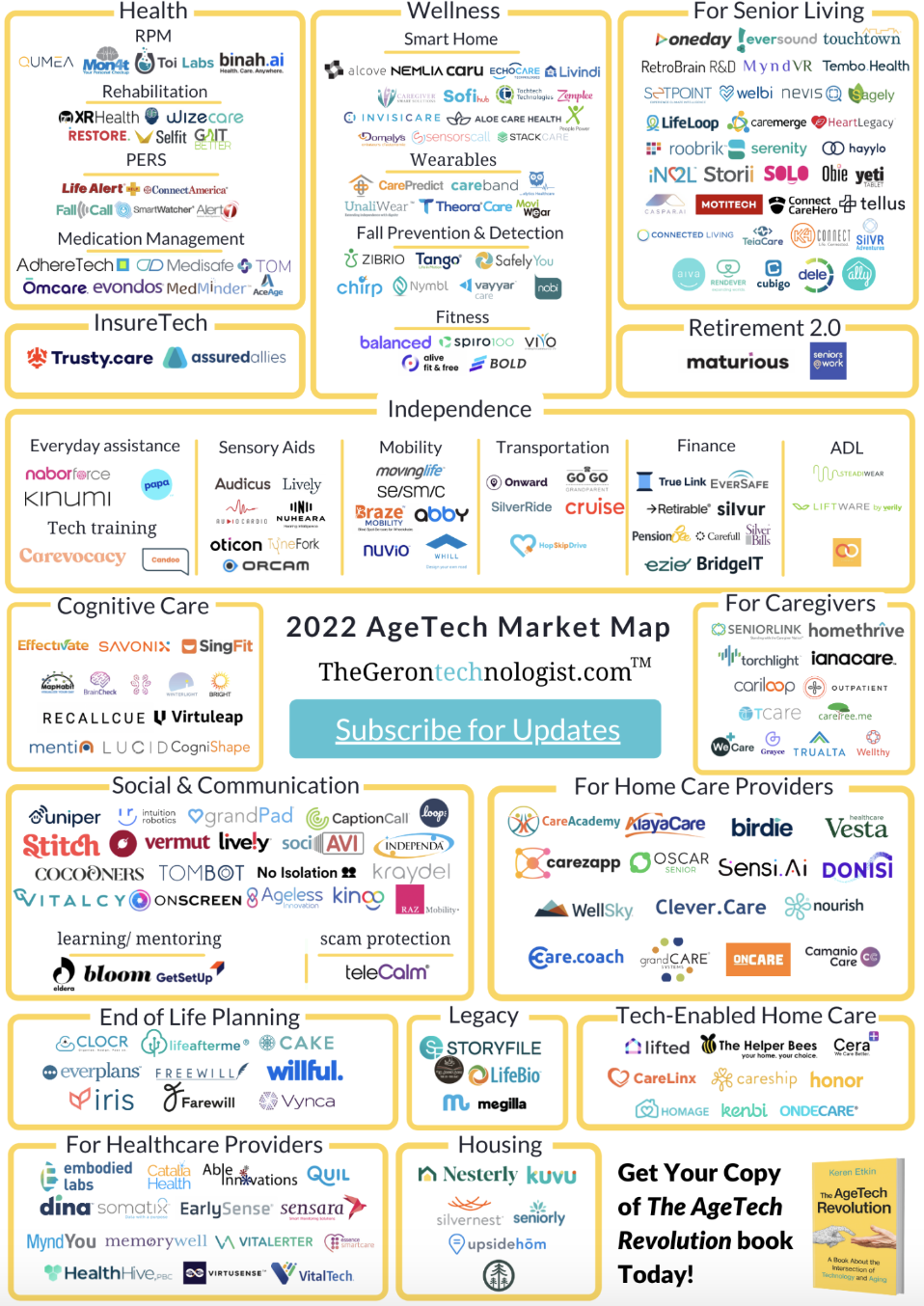 2022 AgeTech Market Map - Thegerontechnologist.com


Baby Boomers: The 'Ultimate Consumers'
It helps to look at the aging industry through a generational lens, too, Bultema said. Currently, senior living communities are mostly populated by the Greatest and Silent generations, folks who don't want to be a burden on their kids, who are mostly "compliant" and who "take what they can get," he said. Boomers, a massive demographic that will be coming into the realms of senior housing and care very soon, are anything but.
Boomers want to age in a place of their choosing, be it in a facility or their own home, and are not keen on compromising much. A demographic with more accumulated income than any generation before or since, they desire a buffet of services to come to them, on their terms, when they want them.
"Baby Boomers are the ultimate consumers. They get what they want. End of story," Bultema said.
And in that vein, it behooves service providers to cater to them, beyond the current innovatively-thin model of care.
"It's time to leave the senior living lens behind. The right questions to ask are not 'what is the product that future generations of seniors want?' but 'what's the portfolio of aging services that are defining the future of aging consumers?'
In a way, such a service model already exists. The Program of All-Inclusive Care for the Elderly (PACE) model, rolled out in 2012, surrounds participants in a portfolio of interdisciplinary services, from transportation to home health and personal care to help with meal planning and preparation, among many others. As of this year, almost 60,000 seniors in 31 states live in a PACE service-provided community, up from about 25,000 when the model was born a decade ago.
So why hasn't this model – which industry experts agree is a good one – taken off?
The answers are several. From the high ratio of full-time caseworkers to those they serve to the multiple challenges of manually coordinating so many services. Again, innovation is the way out – and into the future, Bultema said.
"Incumbents end up with no meaningful role in the future," he said.
Posted by
Chris Killian is a Detroit-based content producer and veteran journalist focused on innovations and tech trends in industries such as healthcare, manufacturing, education, and more. In his spare time, he likes to cook, play guitar, and work on his '84 VW Westphalia, Harry, trying to coax him into another open-road adventure.
SLIF heads to Napa!
The One of a Kind Retreat for Senior Housing Leaders.
Oct 8-10, 2023 | Napa, CA
Learn More