In the slow-moving world of senior housing, COVID-19 has accelerated change in a number of ways, from telehealth to personal tech use among seniors.
However, on a more ambitious scale, one of the most important outcomes of the pandemic could be an industry-wide commitment to build healthier facilities, ones that improve the medical outlook and quality-of-life issues for residents and staff.
To address these possibilities, we spoke with a representative from the International WELL Building Institute (IWBI), a small business owner who's providing an affordable way for communities to upgrade their lighting and heating, and a flooring manufacturer who's determined to educate senior housing clients about the long-term benefits of spending a little more on healthy building materials. Our sources are:
Whitney Austin Gray, SVP of Research at the International WELL Building Institute (IWBI).
Jack Sterne, President of Charleston of, SC-based Lumenant, an energy technology company focused on creating healthy buildings for seniors.
Jamie Thorn, Director of Business Development for Forbo, global manufacturer of high-quality commercial and residential flooring.
A WELL Outlook
The WELL Building Standard (or just WELL) is "the world's first building standard focused exclusively on human health and wellness." It's intention is to bridge the gap between evidence-based medical research and best practices in design and construction. The standard focuses on improving the built environment, specifically buildings, where humans spend over 90% of their time. WELL stresses that its building standard has been "utilized by over 4,700 projects across more than 670 million sq. ft."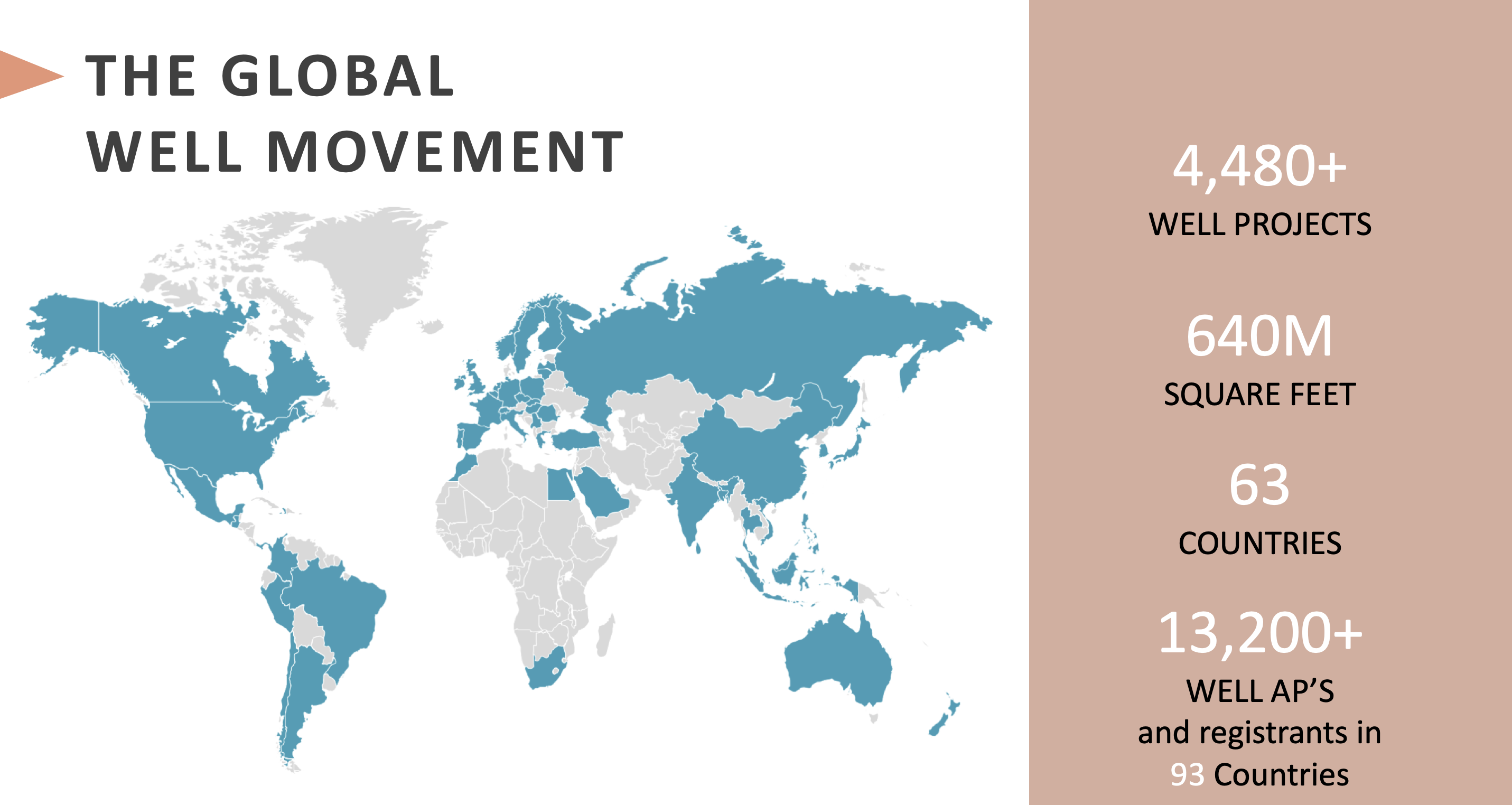 As head of research for IWBI, the organization that administers the WELL building standard, Gray spends a lot of her time speaking to groups worldwide, although mostly virtual these days, allowing the team to reach thousands on the 'Power of Place' webcasts. She says the challenges presented by COVID-19 make it even more critical to empower owners, architects, facility managers and others to be public health advocates, even though right now there are few if any university degree programs that require training in both design and health, although she hopes to help change that.
"We need designers to be public health advocates, and to do so, we need to empower them with information and education about the latest scientific research on designing healthy places for all. WELL helps do that." she says.
She reiterates the powerful impact facilities have on quality-of-life in senior housing. "Facility managers may have more real impact on the health of their residents and staff than doctors, especially in the time of COVID-19. Prevention is powerful."
An Era of Universal Burnout
In 2020, we know senior housing staff at all levels are overworked, stressed, burned out. Burnout is increasing for many caregiving professions, so using all resources to prevent burnout is important, including helping caregivers and residents control their environment to reduce stress.
"Burnout is real. There is a mental health pandemic underway right now," she says. "We did research on the role of design on burnout. A leading visual and social sign that people are burned out is when they raise their hands, almost defensively, in a gesture communicating I can't do one more thing," Gray says.
Organized, and well-lit working environments can make a difference when people can control certain aspects of their environment, such as through stimuli management or sound control. This allows people to retreat and recover from stressful situations. In addition, if people feel that they can control aspects of the environment, that is a way of coping, a proven stress management strategy.
What History Teaches Us
Gray takes an optimistic, but pragmatic, approach to making senior housing communities healthier, safer. Referencing past pandemics, she stresses that it's important to control what you can and limit as many risk factors as possible.
Employers can lead through transparency. "When employers step up and say honestly 'Here's what we can control in your environment and what we can't,' it makes employees feel safer. Anyone promising that their environment is 100% safe from COVID-19 makes me very suspicious. There are just too many variables to predict 100% prevention and disease mitigation. Even hospitals who are the leaders in designing for disease transmission issues are hard pressed to say any environment is 100% safe."
Gray emphasizes that you need to be able to "trust your building against fighting and invisible enemy. The more you know about ventilation, filtration, cleaning, lighting, etc the more you feel like you are controlling what you can, and therefore managing risk."
Power of Proof
We know that anyone building or remodeling senior housing communities right now should be focusing on lighting and air quality. Gray lists her top factors that should be considered, pointing to Maslow's Hierarchy of Needs, with air quality (including the smell) near the top of her list.
Design has adapted to past pandemics and illnesses such as cholera and polio by creating open park spaces, increasing ventilation, and rethinking how to incorporate light into healing spaces. "We need to adapt once again and create design strategies that are focused on the path forward, and not the rear view mirror. "We need to learn from COVID-19, and apply our knowledge to future design," Gray says.
Verification and certification play a key role in building trust within the community.
The Joint Commission, which accredits and certifies more than 22,000 health care organizations and programs in the United States, including hospitals, is increasing their reach into senior housing. The WELL Building Standard has been used in senior living with the Menlo Haven and Views of Marion senior housing projects. will focus on standards that drive the industry. "People want proof during a pandemic, and beyond, that you have done everything you can to protect their health," says Gray.
Prioritizing Health-Reinforcing Upgrades
We asked Gray to name the top improvements that senior living facilities can make to improve the quality of life for both staff and residents?
She lists:
More access to outdoor environments and nature in general
More open, well-ventilated spaces, and
When building new communities and expanding existing ones, breaking up larger clusters of housing units into smaller pods, mini-neighborhoods within the communities. "So instead 50 units together, you'll have smaller sections with fewer units, like neighborhoods, which will help limit the spread of contagious disease."
Building on Gray's points, WELL content emphasizes the importance of air circulation. "Air stagnation may concentrate airborne viruses or dust, so it is critical to keep indoor air as refreshed as possible," reads a detailed WELL report titled, Strategies from the WELL Building Standard to Support in the Fight Against COVID-19.
"Research has shown that increased ventilation in a building can reduce the chance of influenza; a study published in 2019 found that ensuring even minimum levels of outdoor air ventilation reduced influenza transmission as much as having 50-60% of the people in a building vaccinated"
Circadian Lighting: The Next Universal Upgrade?
Lumenant's Sterne is a big believer in the future of circadian lighting in senior housing. These are lighting systems that follow the body's 24-hour internal clock, our natural sleep/wake cycle. In most cases they improve sleep cycles and boost energy during daytime hours.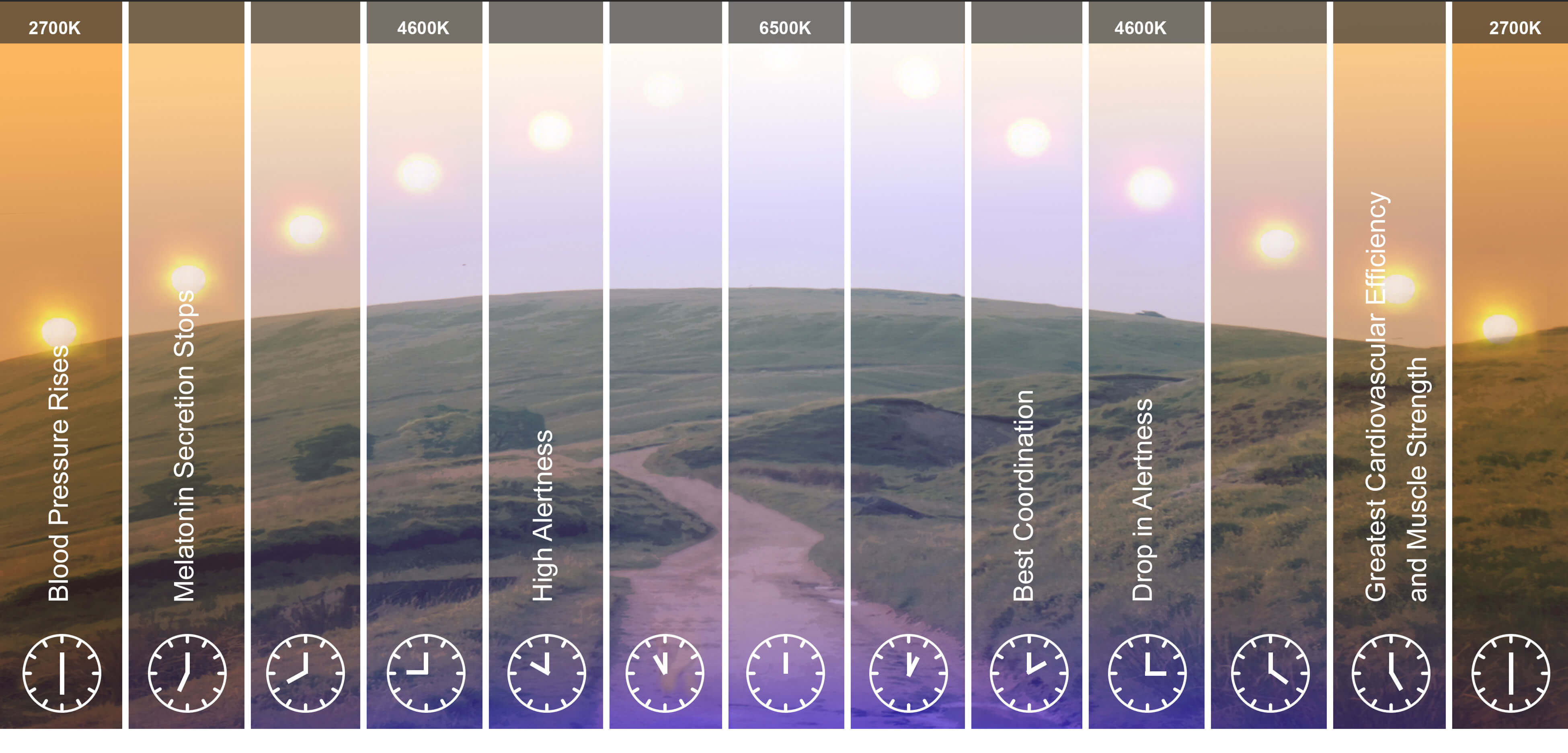 "Most of the clients we talk to are very interested in circadian lighting. With circadian lighting systems, the wellness benefits are so huge in terms of improved sleep patterns and overall health," Sterne says.
"ALG Senior is retrofitting every memory care building with circadian lighting. Brookdale is now including Lumenant circadian lighting in its new construction projects with memory care and we're talking to them about a larger retrofit strategy.
Right now, residents' family members aren't asking about circadian lighting, but he expects that to change by 2022-23. "In another year or two circadian lighting will be a 'must-have' because sleeping is so critical to immune responses, fall prevention and other metrics of health. Lighting contributes to all of it," he says. "I think there is an understanding within the industry that this is something they need to be looking at. You've got your pioneers and then everybody comes in."
Sterne cites Dr. Kevin O'Neill, Chief Medical Officer with ALG Senior. "He is enthusiastic because he understands the impact lighting has on seniors; he understands the research. They decided they wanted it in all of their memory care units and, in new buildings, in assisted living as well."
Feedback has been universally positive. Once circadian lighting is installed, facilities report that their residents are more cooperative. "The lights help them get into a good rhythm. They don't wander the halls at night and there's usually a decrease in Sundowners Syndrome," Sterne says.
Sterne stresses the importance of even lighting that fills in dark spots on floors. "Older eyes can perceive light and dark differences as a shift in the height of the floor and that can cause a lot of falls. Consistent and uniform lighting is so much better for the aging eye."
Do Building Materials Matter?
Forbo's Jamie Thorn says 'absolutely yes.' "This (flooring materials) is a topic that's overlooked, even in a pandemic."
As a manufacturer who has worked with senior housing communities for years, he believes now is the time for the industry to take a hard look at how all aspects of their facilities impact the health of residents and staff.
"Senior housing has always been a cost-conscious market and will look for the most inexpensive way to get the aesthetic they desire," Thorn says, adding, "Don't our seniors deserve more than that? Let's look at how the floor can be an asset and not a liability."
"Now that we're in the pandemic and health for ourselves is more important than ever before. We should have a conversation about the health of a floor, safety and hygiene."
Traditionally, senior housing has opted for carpet and resilient sheet vinyl, both products Forbo sells. In recent years, the industry now seems to be moving to luxury vinyl plank throughout that looks like wood.
"I believe it's a mistake and we've been talking about it being a mistake for a lot of reasons," he stresses. "I think we should come at it as an issue of safety and infection control."
Thorn emphasizes that Forbo makes a number of products, including vinyl, but he believes they're not the right products for senior housing.
What's Wrong With Vinyl?
Thorn believes 'ingredients' are a big part of the problem with the popular vinyl flooring option. "In most cases, you're putting something on your floor where you don't know the ingredients or the impact of those ingredients. You want to buy products that have clear specifics of what's in them, similar to a food label," he says.
"With any product sourced in low-cost regions of the world, you don't know where the raw materials came from. Unless the product needs to meet a certain declaration, they aren't required to list them. So, you don't know the impact your product can or will have."
Instead of vinyl, Thorn believes that linoleum (Forbo's version is Marmoleum) is a better choice for floors, walls and even turned into furniture used throughout senior housing communities.
For many of us, linoleum evokes images of mid-century kitchens with floors, counters and tables covered with the material. Thorn points out that linoleum was actually developed in the 19th Century; it's not a synthetic.
For senior housing, linoleum is ideal for a number of reasons:
It's made from all-natural materials, including linseed oil and pine resin, and wood flour;
Linoleum is anti-static allowing for easier cleaning
Its natural ingredients help make it inherently antimicrobial, which inhabits the growth

of microorganisms associated with infections.
Meanwhile, vinyl (which Forbo also sells in many varieties), has been linked to suspect gasses and health concerns. "Many vinyl products are made from unidentified recycled content. So senior housing should be wary."
Another key point: many products are treated with antimicrobial materials that could actually be dangerous, including biocides and pesticides.
"They're applied to create an antimicrobial surface BUT typically composed of chemicals of concern," he says. "In Europe now, if a product has one of these antimicrobial treatments, it must be labeled as a product that could be dangerous," he says.
Now is the Time
Most of us know someone whose parents or other older relatives have contracted COVID-19. Over the past several months so much (often sensational) media attention has focused on various forms of senior housing, our sources agree now is the time to channel this coverage into positive action by building safer senior housing that helps contain the spread of disease, and nurtures both physical and mental health.
Thorn emphasizes the importance of prioritizing the healthiest possible environments for the most vulnerable in both schools and senior living communities and taking action while the proverbial 'iron is hot.'
"Too many people just look at the initial price, but the price of linoleum-based products is usually only about 10-to-20 percent more and it lasts four to five times longer," he says.
"We're at the pinnacle of the health discussion right now. What are you doing in your communities to ensure a healthier environment? The building materials you choose can play a key role in helping you get there," Thorn says.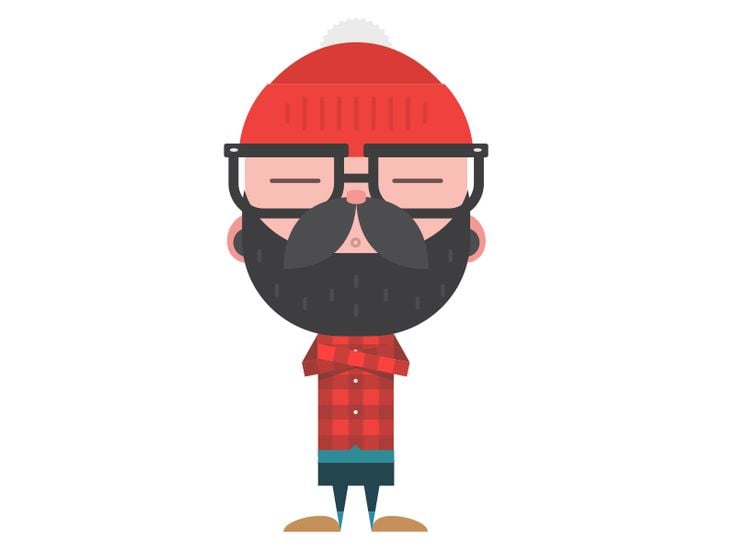 Posted by
Andy Smith is a veteran journalist and copywriter. Andy writes about hospitality, retail, senior living and higher education topics for influence group.
SLIF heads to Napa!
The One of a Kind Retreat for Senior Housing Leaders.
Oct 8-10, 2023 | Napa, CA
Learn More