The ever-expanding "gig economy" is having an impact across all industries, even usually slow-to-adapt senior housing, where shifts often go unfilled and finding qualified employees (skilled and unskilled) is always cited as a top challenge.
"According to (non-profit) PHI, there will be nearly five million unfilled caregiver jobs by 2028. Caregiving is emotionally and physically demanding and the average caregiver attrition across the industry is 82%. Given the high demand for this workforce in other industries, caregiver recruiting" is a big challenge, says Seth Sternberg, CEO of Honor. Founded in 2014, Honor incorporates tech to help consolidate options for the fragmented $30 billion home health care industry.
Lately, other tech-based options have been launched in an attempt to fill short- and long-term positions, provide temporary help during sick leave and supplemental help during peak times. Beyond filling part-time positions, platforms also are facilitating scheduling (a key issue when team members go to school, work multiple jobs, etc.), payroll and the fast-paced, "you snooze, you lose" hiring/onboarding process in a highly competitive job market.
We spoke to leaders from Honor, OnShift and the new Kare app for their insights on ways in which their tech and the on-demand workforce in general is helping senior living providers fill openings, improve culture and reduce high turnover.
Taking Kare
Based in Houston, Kare is currently serving markets in Texas (and soon Georgia), Kare is the first gig-labor marketplace focusing solely on senior housing and post-acute care, says its CEO Charles Turner, former president of PinPoint Senior Living.
Fully launched in October of 2019, the Kare app pairs caregivers, medication aides and nurses with skilled nursing facilities, assisted living communities and other communities where seniors receive care.
"Right now, our tech is based in China, but soon it will be joining our offices" Turner says, adding that this office handles applicant screening and interviews. "We have dozens of clients right now and hundreds of 'Heroes.' (Kare's term for its caregivers). Both of those numbers are growing rapidly. People are referring their friends and it's starting to go viral."
"Unlike Uber, Lyft, TaskRabbit, etc. which are all consumer driven, Kare is more of a Gig-2-B type thing," Turner says. "Your nursing home or assisted living community that needs certified labor can post on our app and prequalified/prescreened people can apply for work. They get a rating like an Uber driver after a shift. The app also checks them in or out," he explains.
"Our focus is on the post-acute side," Turner says. "What we plan on doing is, now that we're getting processes clean, we want to focus on core competency. Over the next few months we will expand into physical therapy, occupational therapy and speech therapy. Meanwhile, Kare also will be adding kitchen and dining services."
Kare pay rates reflect those offered by the employers. "We take a small hourly fee out of that," says Turner, who adds that Kare rewards its best 'Heroes'. "Once they get a 4-5 star rating they get paid the next business day. It creates a marketplace where the better caregivers get the better shifts."
Apps Fill Staff Gaps
In the fall of 2019, workforce management software developer and services provider OnShift released a survey report titled "Workforce 360" which cites employee turnover as the biggest challenge facing senior living (72%).
CEO Mark Woodka takes an optimistic but realistic attitude toward the problems facing the industry, believing that apps (like, admittedly, many of the ones offered by OnShift) are part of the solution to the industry's short-staffed situation. "The first thing to remember is that many employees are making $11-13 an hour and often working multiple jobs, going to school or juggling responsibilities as a single parent," he stresses. "We ask, 'What can we offer providers that can help them be more efficient and cost effective, while also helping to improve the lives of their employees?'"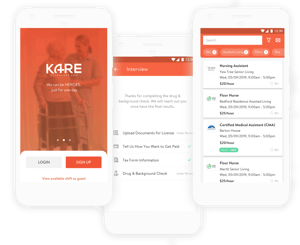 The capacity of apps to help manage scheduling challenges is powerful for employees juggling multiple commitments, family responsibilities and (frequently) jobs. "A hypothetical example that we see with clients all the time, when they were managing shifts manually--they have a good employee, who goes to school on Thursdays. However, she is continually put on the schedule for Thursdays and has to ask to be taken off. Eventually, her frustration builds up and she just quits," Woodka says. "Unfortunately, situations like this happen all the time."
Reducing the Power of Agencies
One major role Woodka sees apps playing is to contain and reduce the expensive impact of employment agencies. "As an industry we have to figure that out. There's got to be a better way," he says.
"What is an agency? A middleman who knows there are people out there who are qualified and willing to work. They charge a premium for that service," he says. "There should be no home for an agency whatsoever," he says. "A lot of employees don't want to work for agencies. Only 2% of healthcare workers are employed by agencies today and this will drive the greater need for employment apps."
OnShift's CEO warns providers about the proliferation of tech-enabled staffing agencies. "Clients don't want more (expensive) agencies in their building. They tend to look to overtime first and staffing agencies second," he says. "However, there's so much cost to be taken out with better tech enablement. As an industry we just need to change that mindset."
Turner emphasizes that senior living providers are learning to prefer Kare to staffing agencies for a number of reasons, including 'transparency.'
"Unlike with a staffing agency where you have no idea who's coming through the door, with our app you know who they are, you've seen their CVs and you can even message or talk to them," he says. "Customers like the easiness of it."
The Powerful Impact of (Slightly) Higher Wages
Woodka says too often providers are short-sighted, continuing to pay lower wages despite the expenses associated with high turnover.
"I just saw a story where a provider increased wages by $3 an hour for caregivers and their turnover plummeted," he says, adding, "And it costs $3000 to replace a caregiver, there's your savings right there. They're also attracting better talent."
He adds that when he speaks at conferences, he asks attendees if they have a set calculation of what it costs to replace a lost worker? "Hands never go up." He adds that expenses associated with high turnover include the costs of overtime, recruiting and time spent reviewing resumes and interviewing applicants.
What About Those Perks & Benefits?
When working with clients, Woodka and his teams stress that often their competition isn't just other senior living communities, but fast food chains like McDonald's, Chick-fil-A and Chipotle, which offer scholarships and delineated career paths, opportunities some providers overlook.
"Benefits like these are a key aspect of corporate culture because they show that the employer is thinking about their staff," he explains. "Too often senior living providers aren't connected enough to their line staff to understand what they truly want."
Sternberg believes it's essential to treat all employees like professionals. "Put strong management practices in place to ensure your caregivers understand what good and bad look like. We treat our Care Pros as true professionals. We also provide them a stats page in their Care Pro app which allows them to see client feedback and details on their on-time rate and other important quality metrics," he emphasizes.
"Too often providers aren't connected enough to their line staff to understand what they truly want."
Woodka adds that financially comfortable leaders often miss one of the biggest needs their line employees face—fast access to their paychecks.
He cites OnShift Wallet, which gives employees access to earned wages between paychecks, for a small fee, as a powerful tool for workers living paycheck to paycheck. "It's useful in situations like when your rent is due on the first of the month, no matter when that falls in your pay cycle," he says."Leadership needs to understand their employee base. These workers are the 60% of Americans who don't have$400 in savings for an emergency. Their savings account is their next paycheck," he says, adding that helping these workers tap into their paychecks faster and receive small emergency loans is more important to them than, for example, 401(k)s.
Turner's thoughts mirror Woodka's. Kare staffers who receive strong employer feedback are paid quickly, often the next business days. "The problem is, we've gotten people addicted to that. So they don't know why they're not getting paid on Sundays or bank holidays," he says.


Accelerating the Hiring Process
One significant side effect of the gig economy—things happen faster. That accelerated pace includes applying for new gigs and starting work, whether that's full-time, part-time or short-term. Employees can be fed up with one job on Monday and starting a new one just a few days later.
Again, this trend is especially significant in senior living, where good employees are hard to find. OnShift's Workforce 360 survey report highlights that over 60% of survey respondents said they were sometimes unable to fill shifts.
Woodka believes accessing qualified workers through employment apps is one solution to this problem. Another, he stresses, is just hiring new team members faster. "We always hear from providers that we can't find enough strong candidates, but frequently the problem is that their hiring process is manual and slow," he says.
Competitors who have embraced 21st Century tech are finding, screening, interviewing and onboarding the best available employees before these providers can make a move.
In addition, he points out that in today's job market, younger applicants often need to be courted, to be sold on the benefits of working in senior living. Meanwhile, many older interviewers continue to approach the process with a "sell me" approach toward job applicants, rather than seeing the process as an interaction. "That doesn't work in today's market, with low unemployment. Consider who's on the other side of the table," he advises.
Reducing that 60% statistic also means doing a better job of training, onboarding and generally helping new hires acclimate, Woodka points out. "We need to onboard people better. Part of solving this problem is closing the back door."
Addressing the Labor Shortage With Shorter Shifts
Another way apps will help make up the shortfall is by offering shorter shifts during peak hours, filling the employer's need and allowing gig workers with second jobs – or, more frequently, family responsibilities – to earn supplemental income.
The best example of this situation is parents who are free to work 4-hour shifts during the day, but need to be free by 2:30 or 3:00 to pick up their kids from school or greet them at the school bus, Woodka says.
Yes, unemployment is incredibly low, he admits, but there are pools of underemployed, including more than a million men over 55 and, more importantly, teenagers, where the unemployment rate is around 13%. And these teens are more likely to use an app to seek employment.
Our sources agree that all these trends can be good for senior housing, if providers get onboard and optimize new tech to help fill the gaps. Turner says the senior living industry is and increasingly will be coming together "to collectively solve the labor problem," pinpointing two key issues: 1) How do we keep labor costs down and 2) How do we conveniently provide extra income to labor that needs it?
Apps that help fill shifts are one solution, though, as Woodka readily admits, "There is no magic bullet. Providers must redefine the employee experience by implementing programs that directly address the personal struggles of caregivers and hourly workers to help reduce turnover."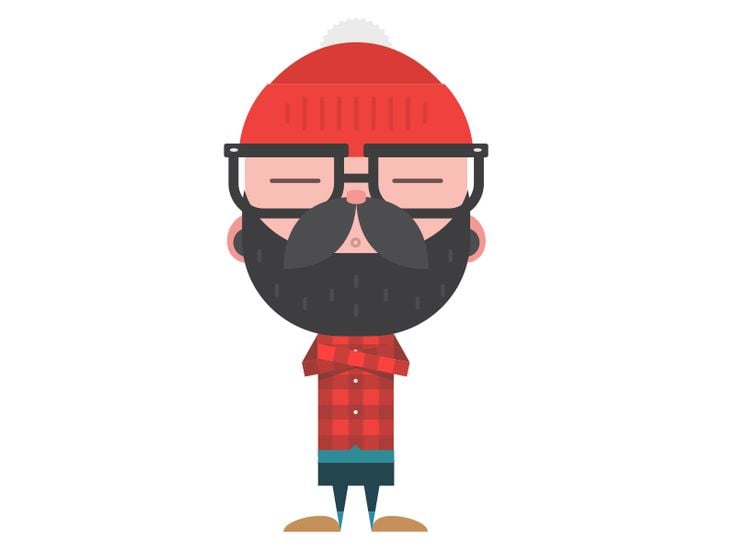 Posted by
Andy Smith is a veteran journalist and copywriter. Andy writes about hospitality, retail, senior living and higher education topics for influence group.
SLIF heads to Napa!
The One of a Kind Retreat for Senior Housing Leaders.
Oct 8-10, 2023 | Napa, CA
Learn More