Since a falling tree left Rosemarie Rossetti in a wheelchair two decades ago, she and husband Mark Leder have been learning through trial and error how to design housing that's truly wheelchair accessible.
In the process, they have become advocates, working with the housing industry, government policymakers, and the public at large to address and meet the needs of housing for an exponentially growing aging population. Their goal is to provide accessibility for those who wish to stay in their homes for as long as possible, and accommodate multigenerational families and caregiving needs.
They embrace the concept of universal design, which makes housing usable by more people through building features and elements (as well as products) that can be used by everyone.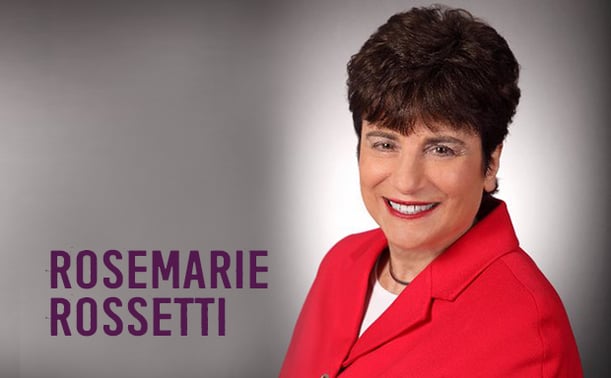 Her Model House
"My husband and I led a national design team and served as the general contractors for the demonstration home and garden we live in located in Columbus, OH," says Rossetti, also an author, consultant and motivational speaker.
Recipient of three national universal design certifications, their Universal Design Living Laboratory offers tours and classes, attended by architects, interior designers and families looking to build wheelchair-friendly homes for family members of all ages.
Kitchens & Baths That Work
Rosemarie is 4' 2" in her wheelchair; her husband is 6'4".
In her home, kitchen wall cabinets have been lowered by four inches over the standard positioning. "We can lower these wall cabinets four inches from where they normally are without creating a visual oddity," she says. "We've also lowered the countertop to 34 inches, from 36 inches."
She adds, "It's 14 inches from the bottom of the wall cabinets to the countertop. This adjustment has given me the ability to reach things on the first shelf from a seated position."
Rossetti also advises, "50% of storage should be reachable from a seated position," while items the person in a wheelchair uses less often can be stored in higher cabinets.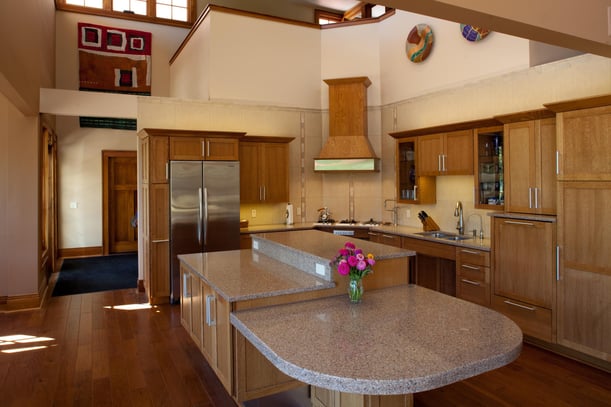 "50% of storage should be drawers and not shelves, which is more accessible to someone in a wheelchair"
"With deep drawers, you can even put a stack of dishes and frying pans in these drawers."
Even when designers make some effort to accommodate disabilities, they frequently get things wrong. Showers, Rossetti says, should be easily accessible to wheelchairs and walkers and large enough to accommodate a caretaker.
Curbless showers are preferable as are channel or linear drains positioned against the back walls, rather than central drainage. ADA-compliant, linear drains remove the standard step over the curb in showers.
A Developer Who Gets It Right
Rossetti has been impressed with the work of a few developers, including Columbus, Ohio-based Treplus Communities. Ann Arthur Cook, Managing Partner of Treplus, says their focus on accessibility and universal design is part of a commitment to develop properties where seniors can age in place.
Though the boilerplate definition of "Universal Design" emphasizes "at little or no extra cost," the reality is often far different. It's more expensive to design and build universal design properties, beginning with the additional sq. ft. required to make hallways wider and bathroom/kitchens more accessible.
"Universal design is important, but it's not the one thing that sells our product," she says. "There's a reason developers aren't running out to do universal design—it's expensive."
Treplus communities like Hawthorne Commons in Dublin, Ohio, focus on single-story properties with attached garages in suburban settings.
"Our residents range from 50 to 91 years old. The 55+ community wants one story buildings that are highly walkable and near healthcare and shopping."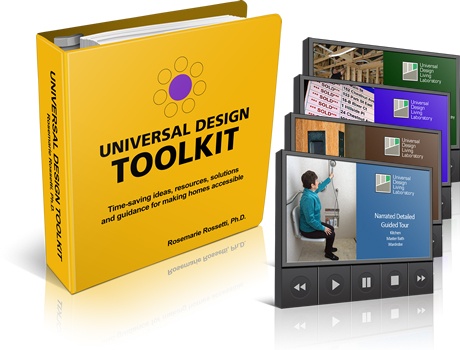 Rossetti authored and published The Universal Design Toolkit: Time-saving ideas, resources, solutions and guidance for making homes accessible.
ADA Light
When developing Hawthorne Commons, Treplus worked with architects and engineers who had experience building ADA-compliant, multi-family units. "They knew some of the issues we were trying to get at," Cook says. "We called it ADA light because we're not doing all the bells and whistles."
What makes Hawthorne wheelchair friendly? "Everything in the unit is no step, including no steps into the shower. The kitchen is wide so a wheelchair can move around in it and we don't have multilevel countertops," Cook says.
"We've got the ability to take out kitchen cabinetry, move the microwave and adapt to somebody who is in a wheelchair," she says.
And what do other developers get wrong? "I have to say they're overlooking the basic tenets of universal design," Cook says. "I have questions when I see townhouses marketed to senior living. You can't expect them to move into places where they're going to have to move up and down stairs. That's why there is going to be more demand for single-story living."
She adds, "The floor plans are often incredibly tight and parking is inconvenient.
"They're marketing to baby boomers in their
in-between years, not to people who want to age in place."
Learn More
To learn more about Rossetti's Universal Design Living Laboratory, take a virtual tour or read about her new book the Universal Design Toolkit, visit www.udll.com.
"Universal design is for everyone, not just people in wheelchairs," Rossetti says.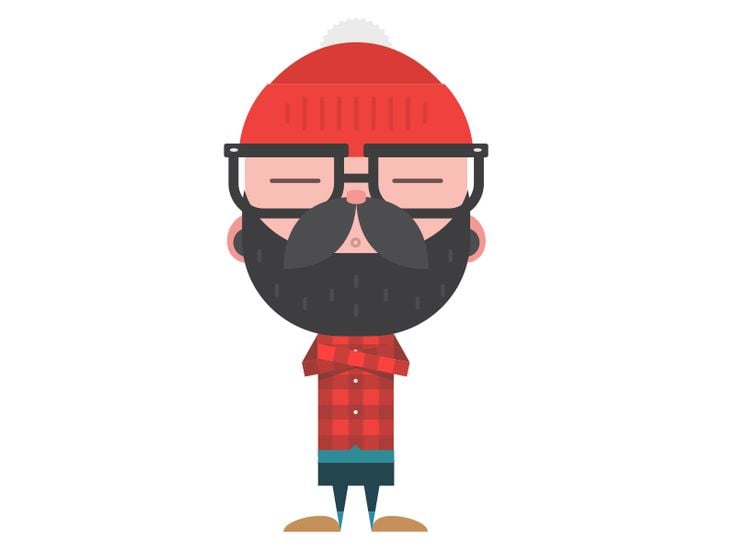 Posted by
Andy Smith is a veteran journalist and copywriter. Andy writes about hospitality, retail, senior living and higher education topics for influence group.
Join us at SLIF Mastermind Series!
Setting the agenda for 2021 & beyond.
-
Learn More