The COVID-19 pandemic has left its mark on nearly every industry. From hospitality to office spaces to retail, the pandemic has proven to be an accelerator of change.
But the senior living industry has quite possibly been more significantly impacted by the ongoing pandemic than others.
The future of the industry has been firmly shaped by the pandemic, along with the ways in which industry leaders address challenges like employee fatigue, hiring difficulties, social isolation of residents, technology implementation, and marketing to future residents.
Bob Kramer, president of Nexus Insights and co-founder of NIC; Dwayne Clark, founder and CEO of Aegis Living; and Tom Grape, CEO and chairman of Benchmark Senior Living, addressed how the industry has responded to the virus and how it must move forward during a discussion at SLIF [Almost] Live.
Ryan Frederick, CEO of SmartLiving 360, moderated the lively discussion, noting the unusual times we're living in have thrust the industry into the future. "How do we reconsider what is possible in a challenging time?" he asked. "How can we imagine ourselves in the future and work our way back?"
Staffing Difficulties
The senior living industry has faced staffing issues for decades. However, with increasing unemployment numbers and many hospitality workers out of a job, some in the industry believed their staffing woes could be a thing of the past.
"We all thought that we could steal a bunch of people from the hospitality industry when it faced challenges," Grape said. "But we found that to be less fruitful than we thought."
The failed hiring boom was also felt by Aegis. However, Clark noted that the company did see several applications from former hospitality general managers, several of whom were hired.
"The thing you have to realize is that the hospitality industry wasn't furloughing their exceptional employees; they went down the pecking order," Clark said. "You have to be discreet and discerning about who you hire from those people. We did pick up three or four general managers."
Grape noted that the hiring spree they thought might occur may have been staved off by the press surrounding the COVID-19 pandemic's impact on seniors.
"Those folks are reading headlines of what is happening in the nursing home business and are not being attracted to the care side of things," he said.
Clark concurred, noting that senior living has always had a hard time when it comes to hiring, and that presenting the role and life isn't easy.



"I think the media and cases of COVID made it three times as hard," he said.
Despite the failed hiring blitz, both Grape and Clark note that the end result was probably for the best.
"It was not bad the way it turned out," Grape said. "We don't want people just drawn to a job application. We want people who want to do this."
Keeping Employees Happy and Healthy
While the industry continues to seek ways to attract new employees to their ranks, they've also turned greater attention to retaining the employees they have.
"Our folks are tired. They are tired of COVID, tired of wearing personal protective equipment," Grape said. "They went above and beyond in April, May, June. We're doing what we can to prop them up and remind them of our purpose here."
To keep employee morale high, many communities have renewed their staff appreciation efforts.
For instance, Grape noted that his company is hosting more recognition events for employees, celebrating their milestones and a job well done.
Additionally, the company is encouraging employees to take time off after a stressful few months amid the pandemic.
Clark said that his company has been focusing on how to address employees' mental and emotional fatigue around the pandemic.
"This has been going on for eight months now. If we're going to endure two more years, we have to be leaders in how we motivate our employees," he said. "We have to go to extreme lengths to help the fatigue and morale of staff."
At Aegis, Clark says food trucks and parties have been brought in as special accommodations for employees. The company also provided employees with childcare assistance and has been looking into options for tutoring services for staff members' children.
Additionally, the company hired a psychiatrist to provide remote sessions for staff, as well as other telehealth options. Clark shared that he personally teaches a Zoom mediation class for over 200 staff members every two weeks.
"Yes, residents have the fatigue, but you have to fix that with staff first," he said.
Each of these measures are intended to keep employees engaged, ensuring their voices are heard and that they are respected in their jobs.
"In the past two months, I've heard of two nursing homes where staff has completely walked away," Clark said. "I'd never heard of that before. That's indicative of what culture and leadership you have. Culture is critically important to get you through these tough times."
Kramer agreed that the pandemic has brought to the forefront the industry's strengths and weaknesses with respect to culture.
"That is critical," he said. "Leaders and providers are doing things that are inspiring employees to stay."
Kramer said there are three key takeaways he's seen when it comes to retaining employees during the pandemic.
First, management at all levels must listen to employees. Second, they must actually hear them.
"There's a difference between listening and hearing. They have to hear the concerns and what is on employees' minds," he said.
Finally, management must act. Not necessarily in a way that solves all issues or problems, but that shows that they want to care for staff as family.
"That's critical," Kramer said. "Leaders and providers who are doing that inspire staff to hang in there. This is going to be a long slog. It's not a short period of time with a definite end in sight."
Tackling Social Isolation
The pandemic has reaffirmed how much individuals long for social connections. While many communities had robust social engagement platforms prior to COVID-19, serving an at-risk group of people has forced many to eliminate their in-person group activities.
"Ironically, the reaction to the quarantine part of the pandemic reaffirms how much we long for social connection and contact," Kramer said. "This has forced us to consider the impossible as now the doable."
The social isolation of residents from fellow community members and from family members has left many senior living providers scrambling to embrace technology that can provide even a small sliver of connection.
"The industry has been brought into the 21st-century world of digital because of COVID," Kramer said. "We've had to learn to deliver care and deliver social engagement and connection all virtually."
Still, it's not the same.
"While virtual is better than nothing, it's just a substitute," he said. "You can Zoom all the time, but you miss the real thing."
Though senior living leaders know that residents will be able to experience their social interactions in-person again, the use of technology will help propel the industry forward.
Embracing Health via Technology
By embracing technology for social uses, senior living communities have also been able to better integrate healthcare as well.
"We've been talking for years about the integration of healthcare and senior living. For many that seemed five to 10 years away, but COVID has propelled us faster into the future," Kramer said.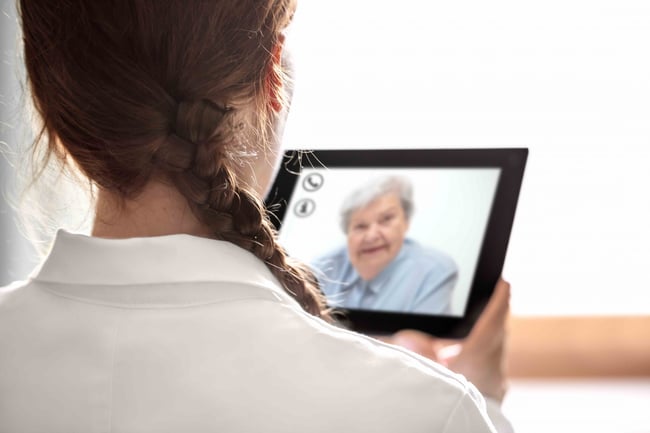 Now, senior housing providers are bringing care to their residents via telehealth services, allowing them to manage chronic conditions and provide triage care onsite.
"I think the good part about this is we'll see more medical technology and science enter into this industry," Clark said. "We'll be able to take care of people medically."
At Aegis Living, Clark said the company has been able to use technology to focus on their mission.
"You have to define in the next 12 months what your mission is," he said. "When you define that mission, you reverse engineer how everything falls into that mission."
Technology plays a large part in that, he said. For instance, Aegis wants to be the safest place on the planet for its staff and residents. By using technology such as infrared thermometers, the company can increase safety.
Attracting Residents
Though the COVID-19 pandemic has left its mark on the senior living industry, Kramer, Clark, and Grape see that some of the impact will change the industry for the better.
"By integrating technology, keeping residents safe, and ensuring employees want to be there, the industry is going to be better suited to serve future residents," Kramer said.
Senior living communities must use the COVID-19 pandemic as a way to repackage the unique living experience it can provide to future residents.
"I want to go back to rethinking the value proposition from a healthier, younger resident. Is there an element where we can make virtual be an asset?" Frederick, the moderator, asked.
By combining technology with senior living, leaders feel they could meet seniors' desires to live their lives in a way that avoids ending up in a nursing home.
"We need to provide a lifestyle product, something that they feel they have control over," Kramer said.
For instance, some communities aren't going to directly provide healthcare, but they could work with residents to use technology to accomplish health and wellness goals.
"This has generated some good discussion. Boomers look at senior living as 'senior dying,'" Kramer said. "We have the opportunity to think of a different product that enables Boomers to create that personalized, customized experience."
Clark said the pandemic has also proven to be an accelerator for families looking at senior living options for their older relatives.
"Families are seeing how valuable senior settings can be," he said. "We find them eagerly looking for communities like ours."
Still, there are concerns Clark and others have had to address.
"There's a lot of discussion of 'does this take the shine off the apple' for senior living," he said. "But families still want to move in."
Working Together
Embracing technology, addressing social concerns, and providing for employees have all been challenges the senior living industry has had to address in recent months.
Though many have found solutions to these problems, not all have found an avenue to share these outcomes with others in the industry.
Clark, Kramer, and Grape agreed that providing a clearinghouse of ideas and implementations could help propel the industry forward.
For instance, Clark said his company recently piloted a system in which staff wore both masks and shields on their properties.
"When we did that, we saw our cases almost disintegrate," he said. "We implemented that company-wide and went from 40 cases to zero. I don't think that's a coincidence."
That's the kind of information -- though anecdotal -- that Clark wants the industry to share moving forward.
"It's one of those things we can do as an industry that we can say, 'Man, that works,'" he said. "I want those kinds of practices and I want to know about them in order to get better."
Grape agreed, adding that strengthening bonds between staff and leadership, even those from different companies, will help the industry as it continues to tackle COVID.
"The broader sharing of ideas and helping to vet them, pulling together at a time like this -- this is going to help folks," he said.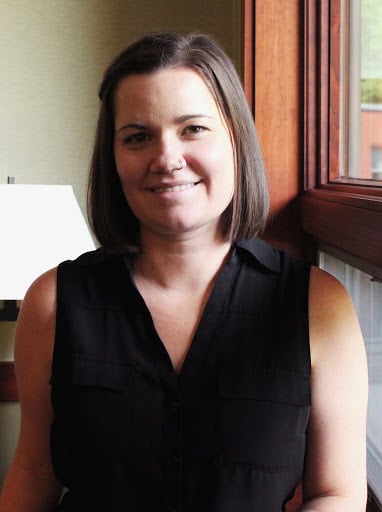 Posted by
Ashlee Kieler is an experienced multimedia journalist based in Iowa. She is passionate about telling stories about healthcare, education, retail and a smorgasbord of other topics.
SLIF heads to Napa!
The One of a Kind Retreat for Senior Housing Leaders.
Oct 8-10, 2023 | Napa, CA
Learn More