As the world's largest design firm, Gensler has more than a little experience creating unique buildings. With lengthy portfolios in the healthcare, hospitality, and residential sectors, the firm is making impressive inroads into senior living, leveraging its expertise to deliver beautiful spaces that encourage both individual and community well-being.
In a recent talk at the Senior Living Innovation Forum, Tama Duffy Day, global leader of Gensler's Senior Living practice, outlined three strategies that inform the firm's award-winning work. As she explained, these principles—designing from the inside out, designing memorable experiences, and designing for health—are essential to creating authentic, grounded facilities that foster meaningful human connections.


Designing from the Inside Out
The first design strategy Duffy Day explained was designing from the inside out: that is, designing from a place of empathy for the people who will inhabit the space, with their unique needs in mind from the very beginning of the process.
Two of Gensler's recent projects exemplify this approach. As the firm set about working on an affordable housing project for LGBTQ seniors in Chicago, it led a series of community workshops to figure out exactly what the space should look like—even going so far as to put tape on the floor to test out various room sizes and configurations. "We really wanted to understand, and hear from the elders, what mattered to them in this facility," she said. "They shared with us really remarkable information about inclusivity, about the importance of activism, and about how they build community with their family." These workshops influenced the very shape of the final product, which reflects the community's preference for studio apartments that allow for more amenities and shared space.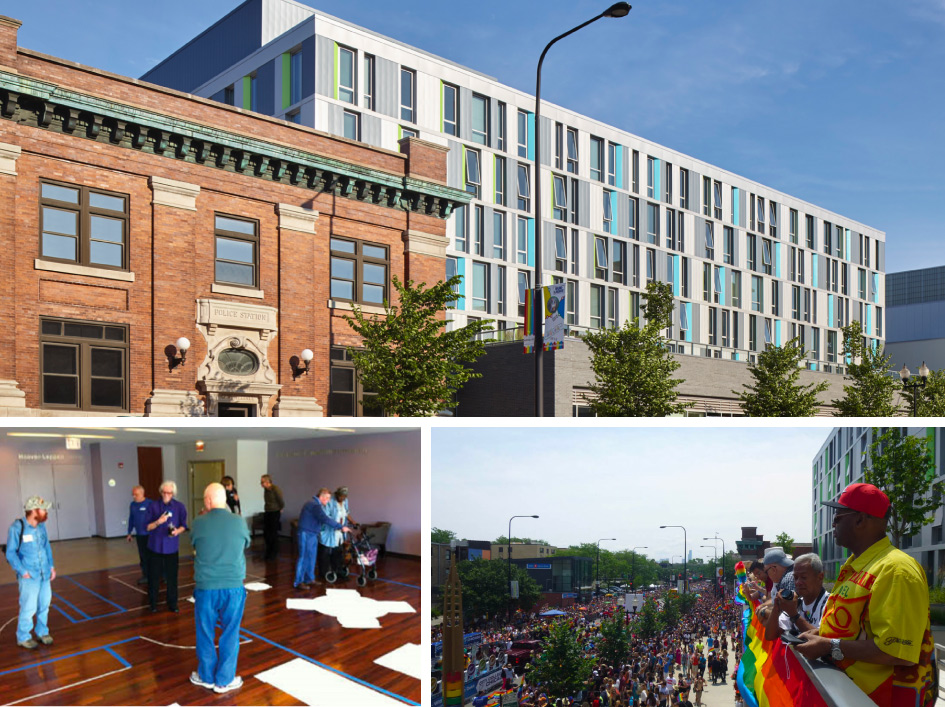 Image by Gensler
Then there's the citizenM hotel in Seattle, a modular hotel designed with the guest at the top of mind. "They're catering for a guest that wants to live in community," Duffy Day explained. That means the hyper-efficient, sophisticated hotel room itself is one-size-fits-all—the same in every citizenM hotel around the world—while the building's public facilities, open 24/7, are geared towards great shared experiences. "They are colorful, confident, and artsy; they even have their own scent," she said, adding that citizenM celebrates each new hotel's community by hosting art exhibits with local artists.
Designing Memorable Experiences
Gensler's second design strategy places a similar emphasis on the human experience of each space it designs. "The Gensler Research Institute created an experience design framework that puts the intention of the person at the center," Duffy Day explained. "And around it, we group three things. We design the expectation of that user; we design the interaction with that user, and then we design the physical space. And those three things, when thoughtfully put together design memorable experiences."
These principles come to life in the Central Park House, a 41-story luxury high-rise in Vancouver. At the tower's center is the Horizon Pavilion, a two-story, 15,000-square-foot amenity space cantilevered off the building, with a gym, lounge, and swimming pool overlooking the city's largest park through floor-to-ceiling windows. "It is the most memorable element of the building itself," Duffy Day said.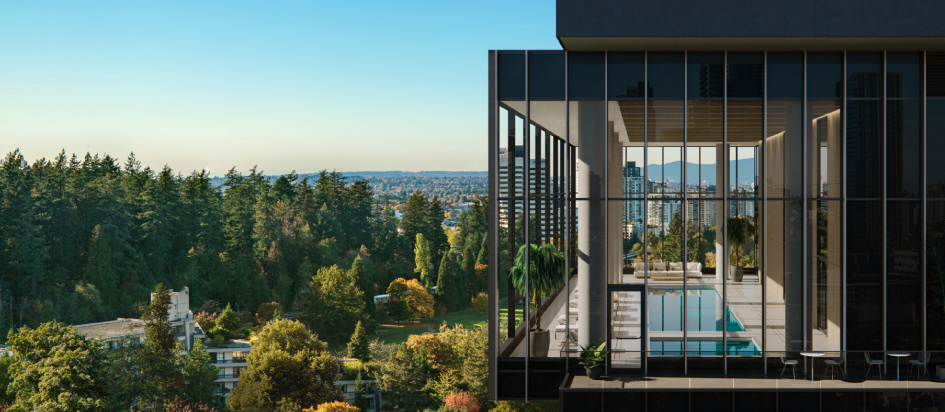 Image by Gensler
Another example is the Willow Valley Mosaic, a 20-story luxury senior living residence in Lancaster, Pennsylvania. Gensler designed the project to foster deep connections with its local community. The first two levels feature a ballroom, a restaurant, a spa, and a fitness center, with public spaces open to non-residents. Amenities are named with local history (and the site's previous occupant, a printing press) in mind, with the overall goal of designing what Duffy Day described as "an intergenerational experience" that sustains the spirit of the Red Rose City. "This project was designed by experts from Gensler in Brand, Hospitality, Residential, Senior Living and in Healthcare all together," she said. "All of that knowledge went into the strategy of this."
Designing for Health
For Gensler, designing for health often means bringing the natural world into the built environment. The firm put this philosophy into practice with the OhioHealth Neuroscience Wellness Center, a 25,300 square-foot facility perched on a grassy hill above a verdant forest in Columbus, Ohio. With massive windows that keep the interior awash in daylight, wide corridors, and a staff atrium, the building is designed to reduce the blood pressure of everyone in it—from the patients living with neurological conditions to the caregivers supporting them.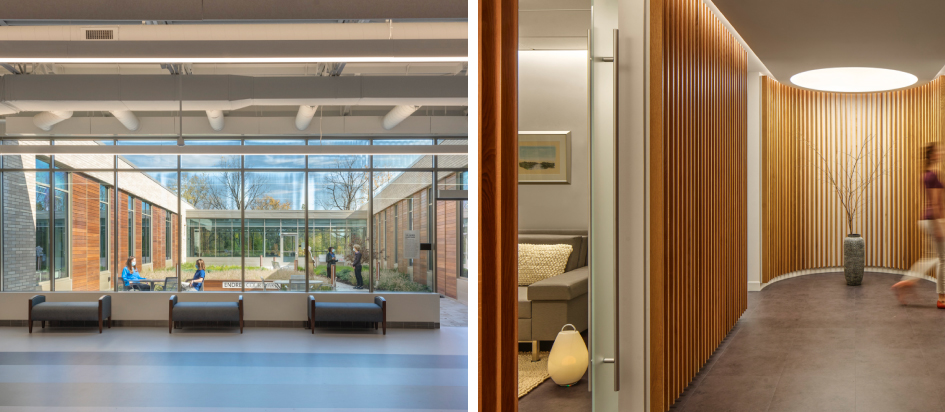 Image by Gensler
Of course, not every building has access to such bucolic scenery. For facilities like the Shirley Ryan AbilityLab in Chicago, Gensler used biophilic design, which brings elements of nature into the space. "The patterning, the wood, the subtle elements—the shape, the form—all reminisce of the elements that you get in nature, walking through a forest," Duffy Day said. The rehab center, for patients with severe conditions like brain injuries and late-stage cancer, also uses bright, colorful interiors to foster joy and distraction.
Crucially, designing for health isn't just important for medical buildings. As the last few years have made all too clear, it's important for all buildings: from huge airports (like SFO, where Gensler's Terminal 2 redesign included a yoga studio and locally sourced organic food) to the smallest details in an office bathroom; from hotels and shopping centers to entire cities. "Design is a superpower," Duffy Day said. "You can create a better world through the power of design."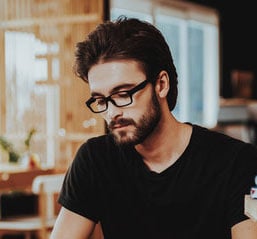 Posted by
Steve Manning is a journalist based in Idaho. When he's not writing, he can usually be found at the theater or taking his dog on a hike. If he could only go to one restaurant for the rest of his life, it would be Al's Place in San Francisco.
SLIF heads to Austin!
A One of a Kind Retreat for Senior Housing Leaders.
Apr 30-May 2, 2023 | Austin, TX
Learn More