For many senior housing providers, the isolation residents endured during COVID brought the importance of experience design into focus, with many realizing that implementing this concept is a necessity, not an option.
To take experience design from a powerful (but largely theoretical) concept to life-enhancing implementation, senior living providers need information and affordable programming ideas that can be consistently fulfilled—from the C-Suite to Activity Directors to multi-tasking workers serving meals, cleaning floors, and interacting with residents several times a day.
Defining the Term
Before discussing how senior living implements experience design concepts, we asked a global aging expert to help SLIF define the term better. Advising startups, large corporations, and investors, Sarah Thomas is CEO of consulting firm Delight by Design, creating, in her words, "age-inclusive products, brands, spaces and experiences that delight the consumer at every age."
For Thomas, "Experience Design is about more than just product usability. Of course, designing a valuable product or service is important, but engaging the consumer in a guided experience, physically and emotionally, throughout the entire customer journey is critical for success. Through human-centered experience design, we create an engaging experience that brings value to the consumer and delights them throughout the customer journey."
In this piece, we'll look at experience design as both high-concept and as something 'doable' that providers across all income levels can put into practice with input from Thomas, as well as the CEO of a thriving tech start-up, and the Founder/CEO of a renowned national senior housing company.
Better Data Makes for Better Experiences
Three years ago, an article on SLIF's blog titled "Why Every Senior Living Leader Should be Focused on Experience Design" suggested that "startup developers with fresh insights may need to start competing with industry giants."
It looks like some senior living providers like Benchmark, Meridian, HumanGood, and more have gotten the message—they're reaching out to innovative startups like Tampa, FL-based TSOLife to help improve resident experiences.
Before senior living communities can create better experiences for their residents, they need to know them, and leadership/staff at most communities just don't, says TSOLife CEO & Founder David Sawyer. Senior living clients have begun working with TSOLife to improve the onboarding process and better understand the passions, day-to-day interests, personal histories, and core values of their population. It's probably no coincidence the company grew about 500% during the pandemic.
Named for the Roman goddess of knowledge, TSOLife's Minerva uses Artificial Intelligence (AI) to create dashboards with a suite of information and personalized tools that help staff put prospect and resident knowledge into practice. "Minerva gives senior communities actionable insights and fuel decision-making," says Sawyer.
The Power of a Bigger, Better Database
"There are a few things we tried to fix by listening to people in the industry. First, folks are asked the same basic questions repeatedly, beginning with their initial phone conversations with sales representatives," he explains. "None of these software systems are talking to each other. So, residents end up hearing the same basic questions multiple times.'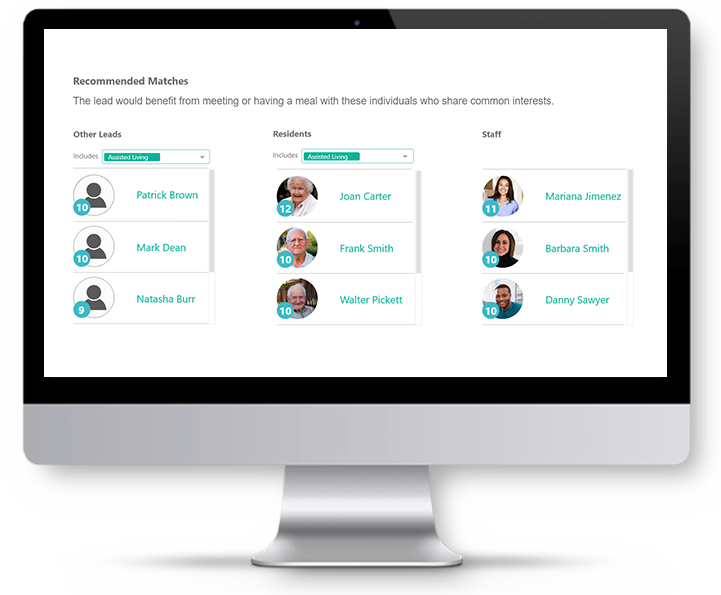 "One of the first things we do is data audit on these companies, and frequently they're out of compliance," he says, adding that "only about 64% of residents fill out a social profile and just 30-odd percent of intake surveys are completed."
For its clients, TSO is replacing these incomplete profiles with a more robust, centralized database. "We provide one source of truth. We maintain the records, the data life cycle," says Sawyer, who explains how Minerva digs deeper. "With us, once a resident moves in, we conduct a 30-minute interview with a mobile app. The information gets transcribed and is shared with everyone else. So, they're no longer filling out massive reams of paper. Instead, there's a 30-minute interview with 100 data points."
How Data Helps the Day-to-Day
Experience Design can tend to get too theoretical, so we asked for real-world examples of ways in which TSO's data collection improved life on the front lines. Minerva's ability to match the specificity of interests is key to building relationships between residents. "If you both like mountains, that's no big deal. But if you both enjoy adventurous hiking trips, if you've both climbed Everest, for example, that's the basis for real bonding," Sawyer says.
"Senior living caregivers and front-line workers are incredibly busy. They're never going to memorize 100 points on a resident's platform," he says. However, TSO has incorporated the insights from 100 data points in a real-world, functional way through text prompts.
For example, if a resident's favorite sports team won the night before, a caregiver will receive a text to bring up the topic and talk with this resident about the game. This capability became essential during COVID when caregivers often were a resident's only contact during the day, he stresses. Three other examples illustrate how data can enhance the resident experience cost-effectively.:
TSO found that four residents in separate facilities were keenly interested in photography and dissatisfied with the other creative options offered. As a result, the providers brought the four photographers together in a group setting for photography-based classes.
Minerva helped leadership at one community realize that not only were many residents interested in a specific genre of fiction, but one of the leading authors in that sector was living in the community! "So they organized a book club with the book's author leading the meetings," Sawyer says.
Text prompts helped one older couple feel deeply appreciated. "A man was visiting his wife at a community. Workers received a text that it was the couple's anniversary. The man was near tears when someone he barely knew congratulated him on his big day as he walked through the entrance," says Sawyer.
"That's how we're giving people information they can act on in a meaningful way."
Juniper's Approach to Life Enhancement
Before the pandemic, Bloomfield, NJ-based Juniper Communities had begun developing a Life Enrichment program to meet the changing needs of elders across its 22 properties. "That meant we had to stop simply doing to people, or for people, but with people. People wanted an environment that was integrated, but not segregated by color or age," says Founder & CEO Lynne Katzmann.
Within the program, technology will play significant roles. "With the advent of AI, we had a lot of data and information that would help us better understand the experiences people wanted and to help them manage the choices they had," she says.
Safety and health are top priorities for Juniper's residents. "They value the ability to live their lives without fear. As we get back to whatever the new normal will be, people want a new type of experience. I will say COVID has forever changed us," Katzmann adds, listing two specific ways in which the pandemic has catalyzed experiential change.
"The pace of tech adoption has gone up, particularly among the adult population, and I don't believe that will go away. The second piece is that older adults are looking at their lives and saying 'there is only so much time left and I want to enjoy it. That need is at the forefront now! What they want in that equation is time and interaction. Our job then becomes developing experiences that create real engagement, activities, and ideas that make them feel like they're living the life they want and choose to live."
Creativity & Collaboration
The Perennial Players exemplify Juniper's hands-on approach to developing dynamic, participatory experiences for residents. For several years they've been collaborating with Music Theater International, forming partnerships around Juniper Villages to create a musical theater troupe that has put on productions like "Singing in the Rain."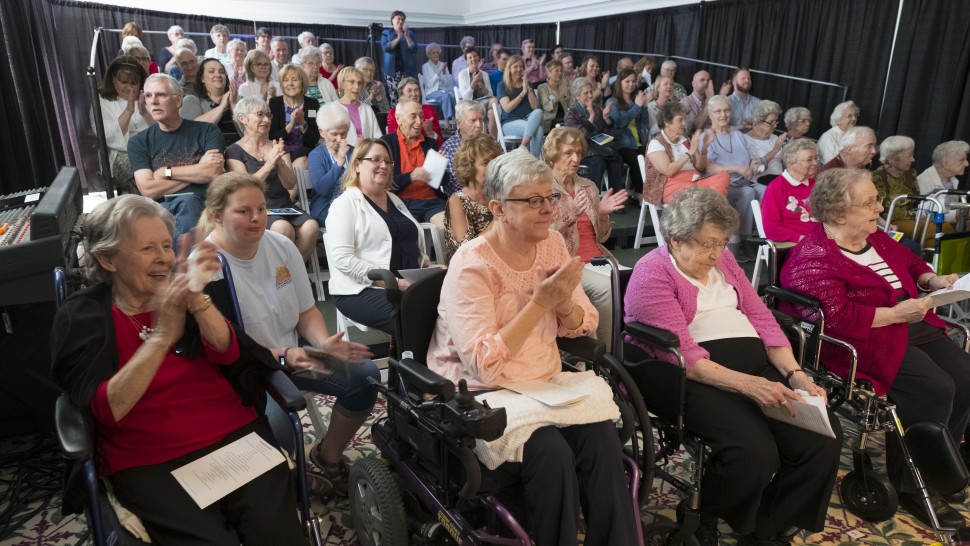 Audiences at Juniper's Singin' in the Rain SR


"Frankly, we don't see musical theater in typical senior living environments. This is our residents acting, singing, participating, and putting on productions," Katzmann says. "It's really about partnership, and it meets many of the dimensions of wellness."
A Higher Concept
Over the years Thomas has worked with brands like Brookdale, Lyft, Welltower, AARP, and Procter & Gamble. Leading global innovation at Genesis Healthcare she designed and launched their Innovation Center in China.
"I've always consulted with technology startups and brands looking to enhance aging experiences, whether it's a direct-to-consumer brand like Proctor and Gamble or a senior housing provider looking at experience design, product design, or service design," Thomas says.
I Want it Now!
Senior living operators hire Thomas to address the needs of new consumers and look at those in their 40s who are mapping out the next chapters of their lives. "Applying my background as an occupational therapist, I focus on human-centered design to create environments and experiences where residents are living their best lives not defined by age," she says.
Thomas believes Virtual Reality and other forms of tech can enhance the quality of life when implemented correctly. "I think tech for tech's sake is useless. As much as I think technology should be integrated into our days to improve efficiency, it shouldn't just be a marketing ploy. However, creating better efficiencies through the use of technology is good."
The generations entering senior living over the next few decades will expect a high-tech, instant-gratification world, she says, adding that senior living must be designing experiences that reflect this change.
"In Silicon Valley, we design products to replace the greatest caregiver of all—Mom!. Bring me food, clean my house, make my bed, and drive me! We want it at the touch of a button with on-demand functionality, and we should be expecting the evolving consumer to want the same in senior living."
Tech Can Be an Experience Game-Changer
Thomas adds, "Having a better tech strategy helps us personalize the approach to fulfilling someone's needs and wants, to create a better experience for them during their day and enhance their living experience. Now more than ever, we need to add person-centered tech-enhanced lifestyle experiences to our senior living environments." A specific example—On-demand food delivery. "It's no longer okay to offer food in senior living communities only a few times a day."
Looking forward, Thomas believes experience design innovations will enhance everything from Activities of Daily Living (ADL) to overall community engagement. "We need more availability of basic tech-enabled experiences; we need to offer technology that reaches families beyond the walls of a resident's community, includes more telehealth, counseling, dietary support, and increased access to other resources that improve quality of life across all dimensions of wellness," she says.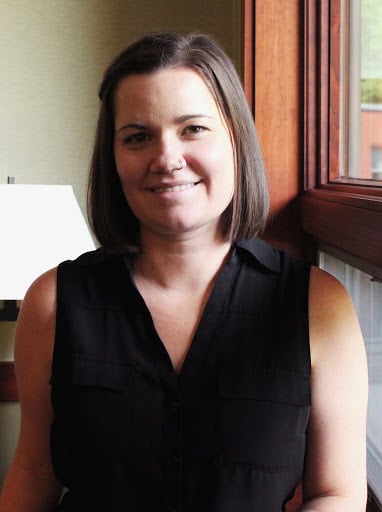 Posted by
Ashlee Kieler is an experienced multimedia journalist based in Iowa. She is passionate about telling stories about healthcare, education, retail and a smorgasbord of other topics.
SLIF heads to Napa!
The One of a Kind Retreat for Senior Housing Leaders.
Oct 8-10, 2023 | Napa, CA
Learn More